MOBIMAR – VISEDO GAINING SUCCESS IN ALL-ELECTRIC E-FERRY PROJECT
World's largest electric ferryboat currently underway in Denmark will be launched in November 2017 to transport vehicles and passengers over a 10,7 nm route from the Danish island of Ærø to Fynshav on the mainland and back. As on the of the Top 5 projects in the EU Horizon 2020 iniative, which is part of the Danish Natura project providing local people green transportation.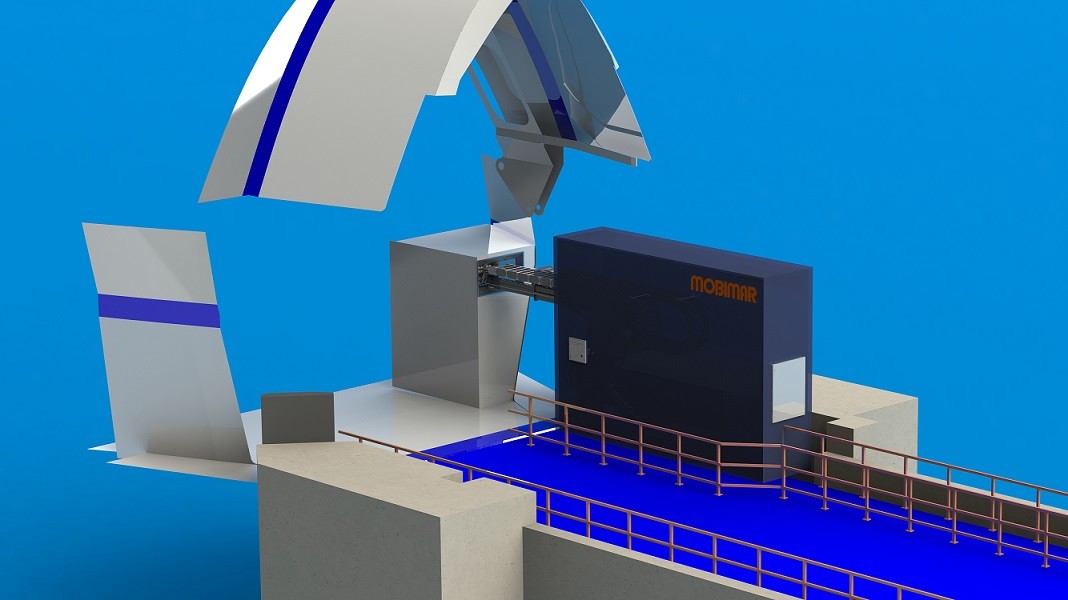 Mobimar 4.0 MW charging connector installed on loading and unloading ramp
Visedo joined the E-ferry project team in 2015 following the successful development and deployment of electric propulsion systems for hybrid marine applications. These previous projects had demanded lightweight, high redundancy systems and this could help significantly in achieving the 22nm required between charges by the E-ferry.
As battery charging being one of the key factors in scheduled and successful operation of the E-ferry, Visedo chose Mobimar to design and manufacture the charging arm. 4.0 MW independent and automatic charging arms are connecting to the ship after getting the "GO" signal from the bridge. They are charging two independent battery packs for redundancy reasons and thus the user can also choose to connect only one side if needed. Charging arms are using machine vision to focus to the ship socket.
The new E-Ferry vessel has been designed as a single ended, drive through, Ro-Ro passenger ferry with one continuous main deck for trailers and cars. The propulsion challenge set by the E-Ferry project is that each sailing is up to 10,7 nm and the vessel must complete two sailings (an outbound and inbound journey) taking up to two hours in total between charges. Added to this, in high season, the vessel will need to make up to seven sailings a day, requiring speedy recharges of no longer than 15 minutes. The new E-Ferry is already promising to be a game changer and is attracting significant interest from those seeking to develop a more sustainable short sea or inland river fleet.

Mobimar is supporting Visedo with the design and delivery of the automatic charging system
Charging power: 4.0 MW
Propulsion power: 1.5 MW
Vessel length: 56m
Vessel width: 12m
Capacity: 130 passengers, 36 cars
Max speed: 14.5 knots
Two 750 kW propulsion motors
Two 250 kW thruster motors
Motor inverters and battery DC/DC converters
Hotel converters
Propulsion and Power management controls
4MW Battery charger from shore
4.3 MWh Li-ion (G/NMC) battery