SKYDIVING SIMULATORS FOR THE QUANTUM CLASS
Mobimar was contacted in autumn 2012 by the RCCL newbuilding innovators. The confidential project was to participate in the design process and to construct a 150 ton skydiving simulator onboard the Project Sunshine cruise ship! The 20 meter wide and 10 meter (+5 m under the deck) high arch will be located in the aft side of the double funnels in Quantum Class. The Royal Caribbean's simulator - RipCord - is based on the recirculating wind tunnel by SkyVenture LLC in Bahamas.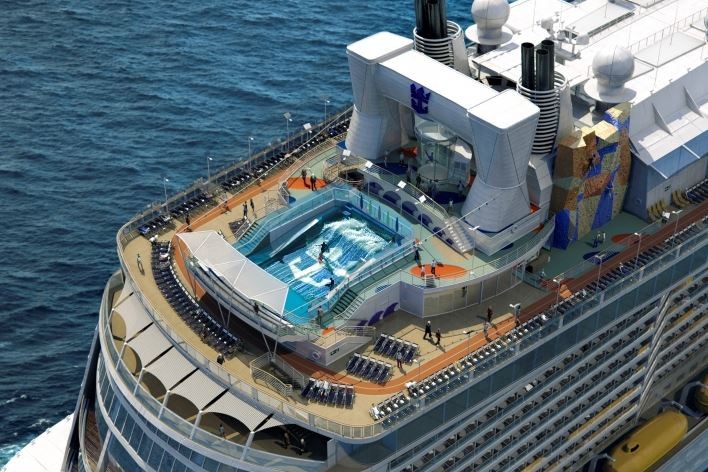 © RCCL. Royal Caribbean's RipCord by iFly® will be constructed by Mobimar. The two iFly® units will be outfitted onboard the newbuildings of Quantum and Anthem of the Seas. Both of these cruise ships will be built in Papenburg, Germany by Meyer Werft.

The actual skydiving will take place in a 7 meter high glass cylinder in the middle of the steel arch. This iFly® wind tunnel is a trademark of SkyVenture, but the cruise ship modifications and the detail design will be made here in Finland. After assembling the prefabricated parts will be shipped to Papenburg where the final outfitting will be accomplished by Mobimar's project team.

The 200 km/h air flow is used to lift the flyers up in the air. Before the flight flyers have to take a training lesson. After the course the flight instructor will guide the flyers inside the chamber.
Above the glass flight chamber the air flow will be divided to both ends of the arch from where it will be circulated down below the deck and from there back to the flight chamber. This recirculation ensures that SkyVenture wind tunnels are also energy efficient.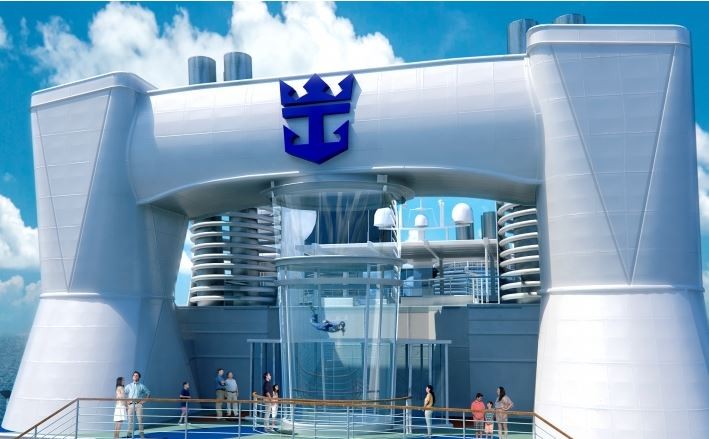 © RCCL. RipCord by iFly® is a wind tunnel for skydiving inside the glass flight chamber. Mobimar will preassemble majority of the construction in the own facilities before shipping it to Papenburg.