TOURIST SUBMARINE MARK V
Mark V - a tourist submarine with no compromises! Mark V offers an exciting ride for any passenger wishing to safely and comfortably explore the underwater world. The vessel's durability, impressive battery capacity, excellent maneuverability and easy maintenance makes it a profitable investment for the operator.
The passengers appreciate Mark V's comfortable and spacious interior, with large windows for admiring the underwater world and a free standing height of 1.90 m! The vessels' stability makes everyone feel safe throughout the dive and the air-conditioning ensures the air inside is pleasant to breathe.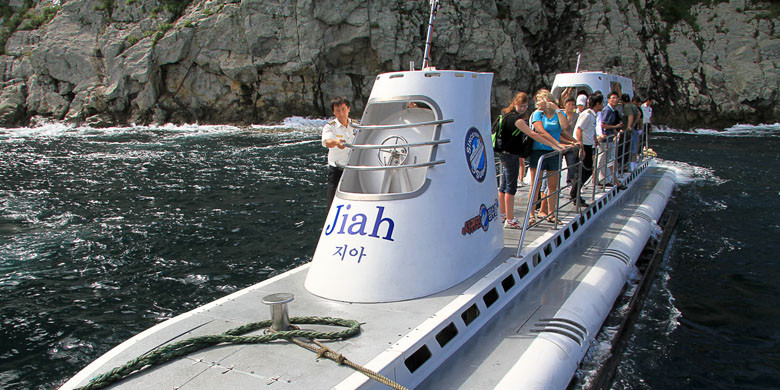 The submarine offers many features, which will guarantee a convenient operation and a fast return on your investment: the reliable AC-thrusters makes the vessel excellent to maneuvre, and the flush outer hull and surface treatment eases daily maintenance and cleaning. Submerging and surfacing only takes a minimum amount of time, thanks to the ballasting system.
The electrical system is a standard 400/230 VAC 50 Hz or 380/220 VAC 60 Hz, guaranteeing that economical electric spares will be available anywhere. And as the battery capacity is 3 times that of Mark III all daylight time can be used for diving, with ample reserve!
The Mark V submarine series has three hull sizes available for 35, 50 or 65 passengers to suit different diving operations.

For more info on Mark V, please contact us.